BEST 6
Best 6 for 2017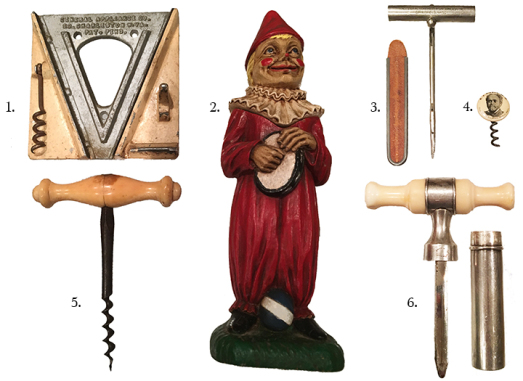 Wall mount GENERAL APPLIANCE CO. SO. CHARLESTON W.VA. PAT. PEND opener with corkscrew. Not pictured in any corkscrew publication thus far. No patent yet found.
Syroco Painted Clown in Red.
Charles C. Call's patent of 1909 (#911,292) for a "Cork Pulling Device." (see O'Leary, 1996, p. 126). Marked CALL'S IDEAL CORK PULLER PAT. APPLIED FOR SPRINGFIELD MASS. An interesting side note, C.C. Call had several patents with some awarded to Smith and Wesson, where Call was an employee for 65 years!
G. B. Adams 1896 Patent (# 564.356). The second example in the collection, the reverse is marked THE WHITEHEAD & HOAG CO. NEWARK, N.J., PATENTED JULY 17, 1894, APRIL 14, 1896, JULY 21, 1896. The front is an advertisement for R. V. PIERCE, M.D. Pres. World's Dispensary Medical Ass'n. (see Morris, 2012, http://www.the-icca.net/library/US_Corkscrew_2012/14.html)
Humason & Beckley Ivory handled direct pull. Marked on the shank H & B, MF'G CO.
Spaulding-Gorham Ivory and Sterling prong puller. This looks strikingly like a Converse patent, however the only marking is SPAULDING-GORHAM and STERLING 97. Spaulding & Co., originally was S. Hoard & Co., but in 1920 was bought by Gorham Mfg., and they changed the name to Spaulding-Gorham Inc.  The name remained until 1943, when it was changed to Spaulding & Co, in 1943.  So, we can at least put a date range to the cork puller of somewhere between 1920 and 1943.